banner
Facility Management Services
About Facility Management Services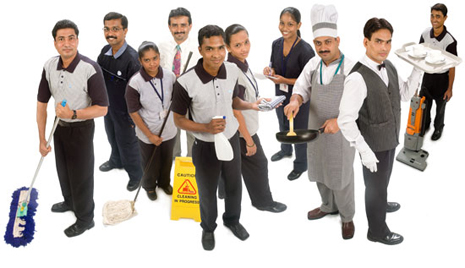 Facility Management Services relate arrangement for professional maintenance and upkeep of the property. People normally sense the quality of their lives from their surroundings, the environment in which they live and the facilitates infrastructure. Facility Management Services include Building Maintenance Services (i.e. Housekeeping Services, Pantry Services, Support Staff Services, Pest Control Services, Carpet & Sofa Shampoo Services, Gardening Services, Façade Cleaning Services, Security Services, Electro-mechanical Services, HVAC – operation & maintenance, Plumbing Services, Guest House Management Services & Payroll Outsources Services etc.) and many more which helps to keep the premises neat & clean, healthy & Secure at all the times.
Now-a-days, the requirement to outsource the Facility Management Services has taken a vast place to manage the building maintenance as per hygienic standards.
In today's scenario, Facility Management Services is the deficit requirement of all the Organizations. Our expert team will maintain the Facility Management Services in a professional way.
There are so many benefits to moving beyond the basic in-sourcing, out-tasking or outsourcing of Facility Management Services to a professional Facility Management Service Provider Company wherein some Facility Management Services are managed and self-performed by one service provider while others are handled by firms with which it has been partnered, all in an integrated manner.
• Reduces costs/overheads
• Provides a more flexible Service Model
• Reduces management complexity
• Improves operational efficiency
• Improves quality of service delivery
• Minimization of Legal Liabilities; and
• Simplify all the Processes and Streamline Operations
BENEFITS FROM FACILITY MANAGEMENT SERVICES